At the moment the scene is rather like a stage without actors – the next step is to populate the scene with ancient Egyptian people
The festival Barque of Hathor part five – I've created the scene which,  at the moment, is empty of people – rather like a stage without actors.
Firstly I want to have two statues of the Goddess Hathor standing at the entrance of the chapel. (see slide show below)
Now for the actors
On the path way that leads from the harbour to the chapel I'll have a group of litter bearers waiting in line for the canal barge to dock. Their job is to carry the Goddess from the boat to the chapel.
This group will be headed by two town elders who will greet the goddess and her entourage of priestesses.
Hathor part four
Hathor part three
Hathor part two
Hathor part one
---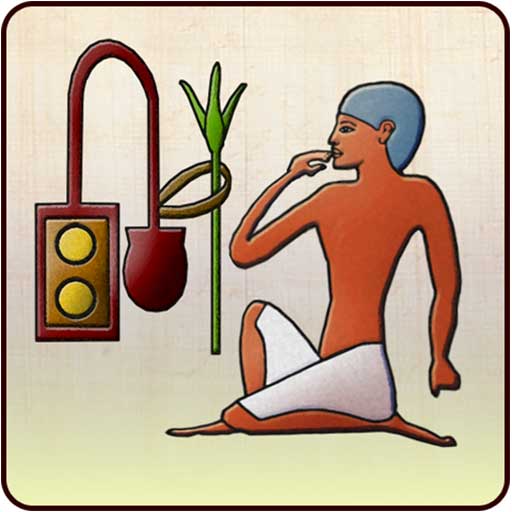 Egyptian Hieroglyphics 2018
This is a brand new version that now works on Windows 10, MAC, iPad, Android and all mobile phones.
There are more than 1100 Hieroglyphic illustrations including 450 Egyptian word examples and over 650 hieroglyphs from the Gardiner list.
Egyptian Hieroglyphics includes detailed information on the history of Egyptian writing and mathematics, the use of the different types of symbols, how to write your name, how to recognize kings names and the story of the scribe with a video showing how papyrus is made.

All the content can be printed including typewriter and calculator functions.
There are also navigation and search text functions.
The Hieroglyphic Typewriter and Math Calculator is included.
The Hieroglyphic Typewriter and Math Calculator is included. The on screen QWERTY keyboard incorporates alphabet and number symbols together with a selection of determinative signs. The keys include Latin symbols together with their hieroglyph equivalents and descriptions, which allow you to type messages naturally and at a glance see the translations.
Kids can quickly write names and short secret messages and then select print from the menu.
---
Vexed is a classic game from the 1990s that proves as frustrating and addictive today as did the original release
This version is has 48 game packs each with 60 levels and five graphic theme packs representing Egyptian gods, Mayan art, Celtic art, Chinese characters and the classic symbol set.
Each puzzle consists of a grid of blocks, walls and blank spaces. The goal is to remove all the blocks to progress to the next level.