Here is an Easter present for you – this is the festival Barque of Hathor scene before I place the people. You can freely use this as a desktop background.
I plan to place crowds of people greeting the Goddess, who will bring blessings to the locality before she continues her journey to Edfu.
The next task is to make the litter bearers who will carry the ceremonial barque, containing the goddess, to the barques chapel where she will remain over night before setting off the following day to the next stop over in her progress up the Nile.
Hathor part three
Hathor part two
Hathor part one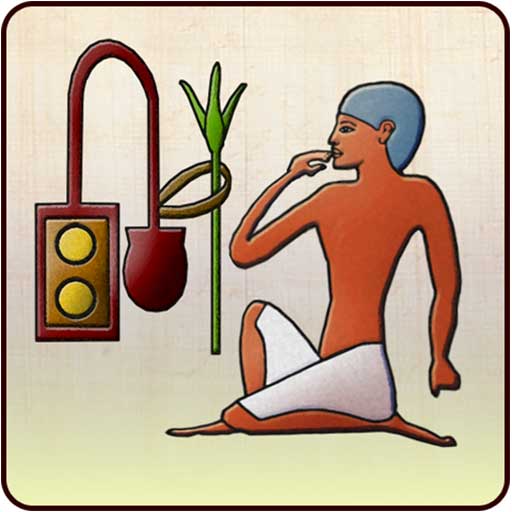 Egyptian Hieroglyphics 2018
This is a brand new version that now works on Windows 10, MAC, iPad, Android and all mobile phones.
There are more than 1100 Hieroglyphic illustrations including 450 Egyptian word examples and over 650 hieroglyphs from the Gardiner list.
Egyptian Hieroglyphics includes detailed information on the history of Egyptian writing and mathematics, the use of the different types of symbols, how to write your name, how to recognize kings names and the story of the scribe with a video showing how papyrus is made.

All the content can be printed including typewriter and calculator functions.
There are also navigation and search text functions.
The Hieroglyphic Typewriter and Math Calculator is included.
The Hieroglyphic Typewriter and Math Calculator is included. The on screen QWERTY keyboard incorporates alphabet and number symbols together with a selection of determinative signs. The keys include Latin symbols together with their hieroglyph equivalents and descriptions, which allow you to type messages naturally and at a glance see the translations.
Kids can quickly write names and short secret messages and then select print from the menu.